Do product descriptions still matter in 2018?
I bet that you're expecting us to say that "yes, they're absolutely necessary in all possible scenarios". But that's not true. In fact, there are some cases where "no description at all" actually beats "poor descriptions". That's because not all products or websites come equal when it comes to seducing potential buyers.
According to Oberlo, FreestyleXtreme, an UK-based ecommerce website specialized in motorcross clothing actually ran an A/B test that featured a control version (with a standard product description) and compared it to a variation that didn't feature any description at all.
Does that mean that we shouldn't write product descriptions? Absolutely not. In fact, most of FreestyleXtreme's poor product description performance can be blamed on a poor page layout that pushed down most of the page's images.
It's not rocket science: most online shoppers compare several websites while attempting to buy a single product. That's because online shoppers love to compare prices, shipping policies and product descriptions: they're looking for the most relevant information out there for that same product.
KiMovil uses long paragraphs but adds more analysis. Amazon uses easily scannable paragraphs and less copy.
This isn't exactly new: adding relevant information to your product pages can potentially boost your search rankings, when done properly. While we'll cover this point later, keep in mind that adding relevant keywords can vastly help online shoppers find that relevant information they've been looking for a while.
Should you use the manufacturer's product descriptions?
Whether or not ecommerce marketers should use their manufacturer's product descriptions is a frequent question that is often left vaguely answered. In short, it all depends on what kind of products you're selling. Let me explain that.
Firstly, ecommerce retailers sell many different products: some sell fashion, some sell hardware and many also sell services. As you may know, each product usually has a dedicated buyer persona, which means that it answers specific needs and desires for a specific cohort. Based on that simple assumption, not all buyers are looking for the same details and information: it all depends on your buyer personas.
A 4K Panel by LG, sold on BestBuy Some products require more technical information and that's OK. Source: BestBuy
And that makes for a quite a huge difference because fashion brands and ecommerce retailers that sell unique products have no choice: they just have to create product descriptions.
As for the other ecommerce stores that sell more mainstream, ubiquitous products, those websites should aim at providing better product descriptions than their competitors.
Lastly, copying your competitors' or manufacturers' product descriptions means that you'll have a vast quantity of duplicated content on your product pages. While it's not the end of the world for big retailers (popping out thousands of products) it could vastly affect smaller websites.
What is a Product Description?
Product descriptions come in different styles depending on the writer and/or the product it talks about. They can be short and scannable or long and engaging. You could give them a serious or a funny tone. They can be placed anywhere on the product page, beside the product title and images, or underneath them.
Good product descriptions help casual buyers make the decision to buy your product by moving them down your sales funnel and improving your conversion. Bad product descriptions, on the other hand, can turn away potential customers from purchasing your product.
The difference between a good and a bad product description has very little to do with its length, tone, or verbiage. Although these elements are important, there is more to the product description.
Convey Urgency and FOMO (Fear of Missing Out)
Use words that create a sense of urgency for purchasing the product. Some of the most common words include "new", "limited", and "now". Incorporating these words into your product descriptions can influence visitors' buying decisions.
Tissot implements this by advertising its limited product line. The product description contains phrases like "limited edition" and "only 3,333 pieces available" to hint at the product's scarcity, which encourages people to make a purchase right there, right now.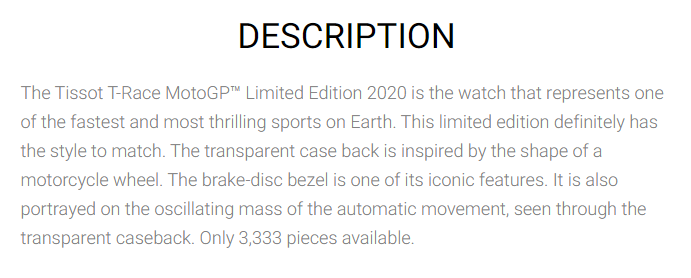 Pro Tips for Professional Product Pages That Sell
1. Continuously A/B Test Product Pages
This is essential as it helps you improve your conversion rate and minimize marketing costs. Knowing what works and what doesn't makes it easier to create a product catalog that appeals to your target consumers.
The variant page is where you make changes and apply your new ideas. The goal is to see how much of a difference can be made between the two pages. Make sure to test one element at a time to obtain accurate results.
2. Easy Navigation and Seamless UX to Make the Sale
Make your CTA buttons visible and easy to click on the product page. Remember that it's also possible to split-test your CTA button to see which layout and a copy will have a higher conversion rate.
3. Use Sensory Words
As customers cannot test your product, you must provide a detailed description of how it would feel or look in reality. You can do so by crafting copy that appeals to their senses.
Lindt has a good product example of descriptions that sell. The company uses words like "smooth" and "buttery" to appeal to your cravings for their chocolate. By describing the aroma, it entices the customer to make the purchase.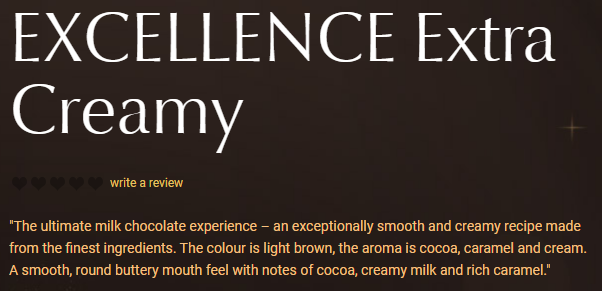 4. Straightforward Pricing (Include Taxes and Shipping)
Price is one of the most important pieces of information that visitors want to know when they look at products. Good placement and transparent numbers are key for high conversion rates.
Audio Technica displays the price directly under the product name, where it's easy to spot. Adding a CTA button below the pricing is a nice touch as it encourages purchases from the get-go.
If your product comes in different variations or packages, make sure you add all the pricing options separately with information on how each option differs in functionality or benefits. The Samsung Galaxy page implements this method to create a personalized shopping experience.
If you provide a delivery service, make sure to include the shipping and tax fees with the first price a customer sees. Doing so will eliminate any hidden costs that leave customers with a sour taste.
Most online stores show the shipping cost and applicable tax on the customer's shopping cart page. For example, this is a screenshot of Nike's store cart before you proceed to checkout.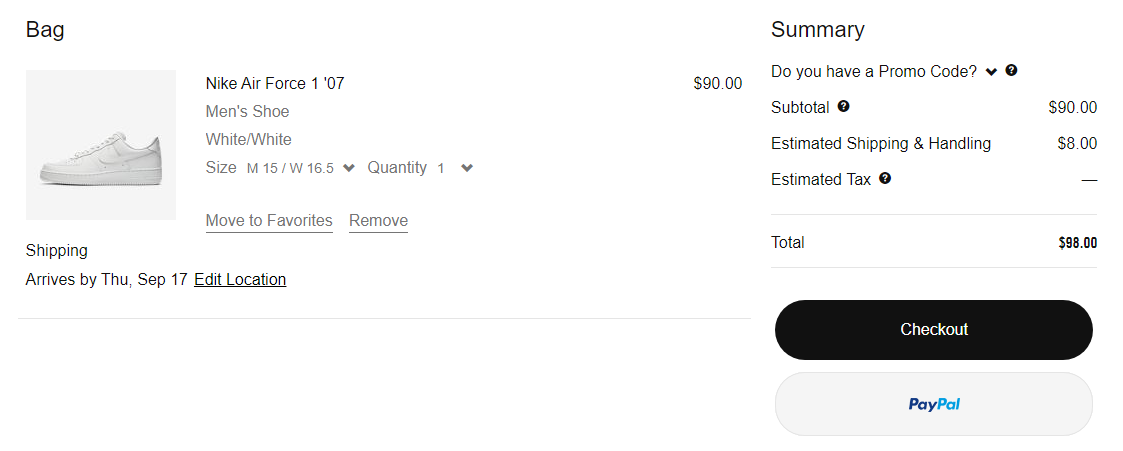 5. Add Validation With User Reviews and Testimonials
Having social proof such as customer reviews and testimonials on your product page may help you gain credibility and customer trust. They're particularly essential for leaving a first positive impression on new visitors.
You can utilize different types of user review formats to showcase people's opinions on your products. The star-rating system is the most common one, which gives a general perspective of your brand's quality to potential customers.

When you're collecting user reviews, it may benefit you to gather information about customers' backgrounds, like age, gender, and product usage. Besides enhancing credibility, the information can provide better insight into your target customers.
For example, a couple of sport watch users may use the product for different activities – one for swimming and the other for running. The swimmer could find that the watch isn't a good pick for diving while it's perfect for a runner.
6. Optimize Product Pages for Search Engines (SEO)
Besides giving your customer insight into your product, your product description section provides a great opportunity for your website to rank high on search engine results pages (SERPs).
There are multiple angles to approach search engine optimization (SEO). For product pages, it's on-page SEO. It involves adding keywords that are relevant to product descriptions and metadata.
Sources:
https://www.abtasty.com/blog/write-good-product-descriptions/
https://adoric.com/blog/how-to-write-product-description/
https://www.hostinger.com/tutorials/how-to-write-a-product-description