How to Start an E-Commerce Business: A Step-by-Step Guide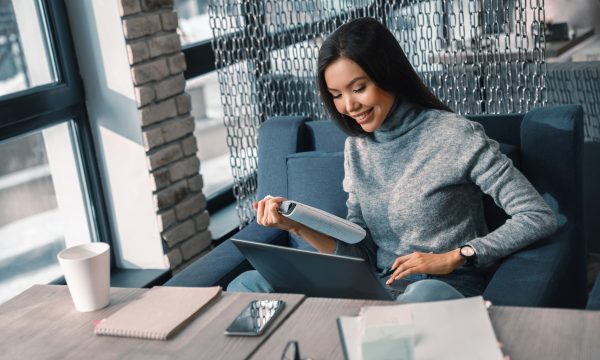 Many or all of the products featured here are from our partners who compensate us. This may influence which products we write about and where and how the product appears on a page. However, this does not influence our evaluations. Our opinions are our own. Here is a list of our partners and here's how we make money.
Much like starting any business, learning how to start an e-commerce business isn't always easy — but setting up, launching and maintaining sites where entrepreneurs, designers, and creators of all sorts can sell their wares is more attainable now than ever.
Ecommerce businesses — which are businesses that transmit goods, services, and funds over the internet — vary in size and scope, from retail behemoths like Amazon to Etsy craft sites. Online shopping is just one of many areas that have seen extensive growth over the past five years. According to a report from the U.S. Census Bureau , in the third quarter of 2019 alone, U.S. e-commerce sales amounted to approximately $154.5 billion, accounting for 11.2% of all retail sales in the nation.
Depending on your goals, it might make sense to start an e-commerce business. After all, without the need for a brick-and-mortar location, e-commerce businesses offer greater flexibility, affordability, and opportunity for many entrepreneurs. So how exactly do you start an online business? This guide is here to help.
Step 1: Research Ecommerce Business Models
If you like the idea of having your own warehouse full of goodies, you're investing more up front and working with a wholesaling or warehousing (retail) model. Have a business idea for the perfect product idea or a favorite product you wish you could sell under your brand? Look into white labeling and manufacturing.
The ecommerce business model that attracts me the most is a single product category that you supplement with affiliate marketing. You can control the content marketing and branding on a focused product and focus the rest of your energy on driving sales by monetizing traffic.
Resources On Ecommerce Business Models
I highly recommend that you take your time and learn the different business models and compare them mentally. Then decide which one best lines up with your resources and marketing strengths. Also, think about where do you want to sell. Do you want to start your own online store on Shopify or do you want to sell on Amazon? Of course, you can do both, but marketing will be different.
2 ways you can build an e-commerce website
1. Building a site from scratch
Building a site from scratch means you have to go through many steps, from designing the online store to building all the elements and putting them together into a working website. If you're not familiar with HTML, CSS, and JavaScript and don't have much free time, you need to hire developers.
Tips for finding reliable e-commerce developers
If you decide to build a website from scratch, you need to work with e-commerce developers. Developers create custom site elements and code functions like automating e-commerce processes.
Check their previous experience. Closely review developers' portfolios to assess their expertise and experience in building the kind of website you need and using the best e-commerce software to do it.
Give them a test problem to solve. Pick a feature of the e-commerce site and ask developers how they would use it to gauge their problem-solving skills.
Look for reviews and testimonials. A good e-commerce developer or company will have numerous reviews and testimonials online. Review sites can guide you through relevant reviews and testimonials.
Ask for cost estimation. Experienced e-commerce developers should be able to provide a detailed cost breakdown based on website functionality and other parameters in your project requirements.
More control over your site. Some website builders turn the source code into metadata – a short description of that data – making it difficult to move the website to another host. It works great on the website builder platform, but other platforms may have trouble reading the data completely. Building it from scratch gives you complete control over your site and the ability to move it around if needed.
Get the functionality you want. You have no limits when adding additional features to your store and customizing them to provide a specific customer experience.
Custom hosting options. When you build a website, you can choose your web hosting provider, go the cheap and easy route, or invest a little more and get a powerful provider. With site builders, you're stuck with their default hosting option.
Better performance. A custom built-site has fewer lines of code than website building platforms. This can make the custom site faster and less hackable.
2. Building a store using an e-commerce platform/website builder
The other option is to use a platform to streamline the e-commerce website building process. Whether you choose an e-commerce platform or website builder, you can use pre-built website elements to assemble and launch your online store quickly.
No coding skills required: You can build stunning websites without writing a single line of code, be it HTML, CSS, or JavaScript.
Drag-and-drop editors for ease of use: Creating pages for your store is easy. Most site builders have drag-and-drop editors that allow you to add elements to a page layout and navigate easily.
Ready-made features: Instead of building features from scratch, website builders give you features you can use immediately to add different functionality to your online store.
Access to professionally designed templates: You can use pre-built templates to create a general look and feel for your store and then customize it.
Access to customer support: Site builders offer customer support through numerous channels so you can resolve potential issues quickly.
How to set up your e-commerce site
1. Find a web host and a domain name
What is web hosting? Why does it matter?
Web hosting provides the storage space for the files that make up your website and allows users to access them online. If you use a website builder, you don't have to worry about hosting as these platforms have their hosting solutions and handle everything from maintenance to website security. However, if you decide to work with a developer, you must find and buy a hosting plan.
Here are some tips to help you find the right hosting for your e-commerce website:
What is a domain name? Why is it important?
A domain name is your online store's web address, but it's much more. It's the first thing your potential customers see when they interact with your online brand. Customers quickly remember a memorable domain name. Plus, it's the focus of all your branding and marketing strategies.
Some examples of great e-commerce domain names are InspireUplift, Overstock, and Humble Bundle. Now that you know all the basics and the initial preparations required, you're ready for the next step, customizing your store.
2. Customize your e-commerce website
Website navigation
Easy navigation is critical to your success as it helps site visitors easily find what they need. Some best practices include highlighting parent product categories, introducing subcategories, and adding a search bar as Waterstones did on their website.
Deliver exceptional checkout experience
The three pillars for creating your shopping cart checkout pages are clear, simple, and fast. For example, you can introduce a detailed product summary, provide only essential information, add trust marks, and provide information about available support like Best Buy does in its store.
Opt for a simple design
When it comes to user experience, online shoppers prefer a clean design to a cluttered one. They don't want to jump through hoops to find what they need. Otherwise, they'll jump off and look elsewhere. Use white space to highlight important sections of the page and user-friendly color schemes that Allbirds makes perfect on their website.
Leverage text and images to communicate essential information
While you can customize text and images in your online store, remember that people are there to shop or research products. Offer only relevant information and keep it clean. Don't use unnecessary background images to distract visitors' attention from the products as Chubbies does.
Offer only relevant information and keep it clean. Don't use unnecessary background images to risk diverting visitors' attention from products. For example, Chubbies follows the best industry practices on this.
Provide links to your business policies
Your website should contain relevant information on all pages. Your terms and conditions, return policy, shipping practices, and essential documents should be available through the website footer.
Brand your online store
You can easily add branding to your online store by customizing color codes. You can customize many professionally designed themes to reflect your brand colors and logo. For example, TOMS does a great job balancing its tagline with the color scheme and smart product choices.
Add products
Adding products to your online store is a crucial step. When you add them, you provide all the information to include on a product page. Adding products through e-commerce platforms and website builders is straightforward as they all have an "Add New Product" button that triggers a wizard to guide you through the process.
Write compelling product descriptions and titles. Product titles and descriptions shouldn't just communicate a product's name and characteristics. They have the power to convert, and if you make common copywriting mistakes, you risk losing conversions and sales.
Create product categories. Adding products to categories is paramount to your success. It improves your site's user experience and helps customers find and explore similar products in a snap.
Include product data. Besides adding product descriptions, there is another way to make your product pages more informative. You should include product data such as instructions, brochures, and images to help customers make informed purchasing decisions.
Upload product images. It's not enough to add product images from different angles and ones that show real product applications.
Images you should use:
3. Consider payment methods
By supporting multiple payment options, you can make shopping in your store more convenient for a broader demographic. The easiest way to manage them properly is to use the plugins. These plugins support a dozen payment methods you can add to your store with just a few clicks.
Sources:
https://www.nerdwallet.com/article/small-business/how-to-start-an-ecommerce-business
https://www.ecommerceceo.com/start-ecommerce-business/
https://learn.g2.com/e-commerce-website