State boarding schools offer free education and affordable boarding. As well as many having an excellent academic reputation and some impressive facilities, they offer a broad programme of extra-curricular activities for a third of the cost of an average independent boarding school.
What Does Boarding School Cost?
If you're a parent exploring boarding school options for your son or daughter, you've likely noticed that choosing a private school is more than an educated decision. It's also a significant financial decision and truly an investment in your child's future. You may be asking "are boarding schools expensive?" or "how much does boarding school cost?"
Well, the short answer is that it all depends on the type of school, location, and how much financial assistance your family receives. So, bottom line, despite tuition ranging from $60,000- $75,000 at many schools, you could actually find it is more cost effective than many private day schools in your region.
Average Cost of Private School
Private schools are unaffiliated with any local, regional, state, or national government and do not receive public funding. Private school tuition varies depending on education level and the institution's affiliation.
Cost of Private Day School
Cost of Private Boarding School
There are only a few hundred boarding schools in the United States. Most of them are on the East Coast. Modern boarding schools offer room and board in addition to day school classes. As with other private schools, boarding schools tend to charge higher tuition for higher level classes.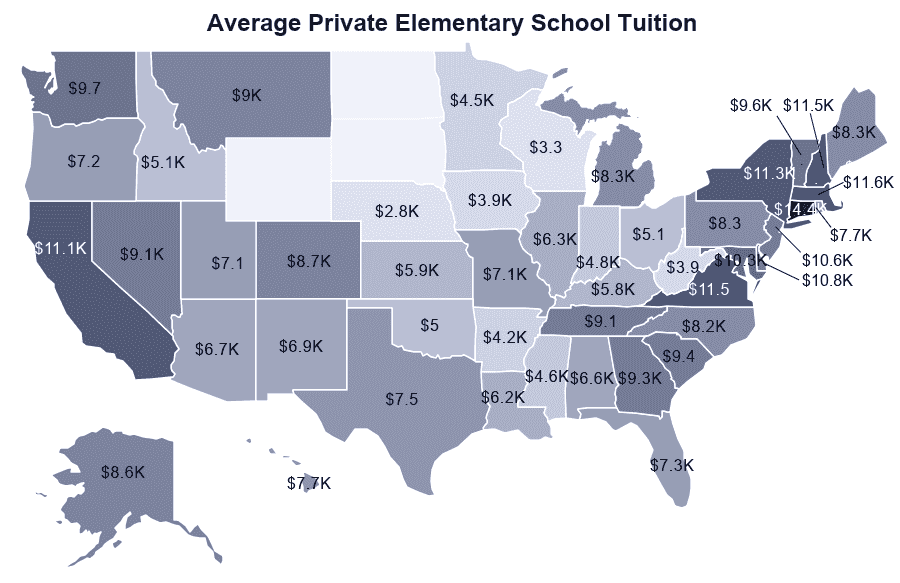 Private School Tuition by State, from Highest to Lowest
State
Elementary
Tuition
Secondary
Tuition
Average Tuition
among all schools
Connecticut
$14,350
$33,610
$23,980
Vermont
$9,600
$33,740
$21,670
New Hampshire
$11,530
$31,720
$21,630
Maine
$8,260
$31,090
$19,680
Massachusetts
$11,580
$32,300
$17,020
Rhode Island
$7,740
$25,850
$16,800
California
$11,080
$19,830
$12,860
Arizona
$7,740
$18,590
$12,650
Virginia
$11,510
$16,660
$11,085
New York
$11,250
$22,510
$11,530
Hawaii
$7,720
$15,030
$11,370
Colorado
$8,700
$13,810
$11,260
Maryland
$10,270
$17,040
$13,660
Washington
$9,650
$12,210
$10,930
Delaware
$9,270
$12,290
$10,780
New Jersey
$9,220
$19,460
$10,560
Nevada
$9,140
$11,630
$10,390
Tennessee
$9,070
$10,290
$9,680
Michigan
$8,250
$10,810
$9,530
Oregon
$7,220
$11,640
$9,430
North Carolina
$8,210
$10,220
$9,220
Utah
$7,100
$11,330
$9,210
Texas
$7,530
$10,430
$8,980
New Mexico
$6,910
$10,730
$8,820
Kansas
$5,910
$11,620
$8,770
South Carolina
$9,400
$7,030
$8,210
Pennsylvania
$8,270
$15,590
$8,160
Georgia
$9,300
$10,800
$8,040
Florida
$7,260
$9,570
$7,670
Iowa
$3,870
$10,800
$7,330
Alaska
$8,610
$5,710
$7,160
Alabama
$6,560
$7,540
$7,050
Montana
$8,980
$6,620
$7,050
Illinois
$6,340
$12,530
$6,860
Louisiana
$6,180
$6,930
$6,550
Kentucky
$5,770
$7,290
$6,530
Missouri
$7,080
$13,130
$10,110
Idaho
$5,110
$7,380
$6,250
Oklahoma
$5,020
$6,380
$5,700
Arkansas
$4,200
$6,740
$5,470
Minnesota
$4,450
$11,470
$5,430
Mississippi
$4,630
$6,170
$5,400
Indiana
$4,780
$11,260
$5,100
West Virginia
$3,890
$5,620
$4,760
Wisconsin
$3,280
$8,110
$3,550
Nebraska
5000,830
*
5000,830
Do I need to live in the school's catchment area?
In line with state day schools, all state boarding schools follow the National Curriculum for England, Wales, Scotland or Northern Ireland, and students take the same exams. Most students study GCSEs and A Levels, but some state boarding schools offer different pathways. For example, the IB is available at Hockerill Anglo-European College, you can study BTECs at schools including Steyning Grammar School Day and Boarding and Dallam School, and vocational courses at Richard Huish College.
Only a very few schools do have close links with some of the UK's top independent schools. Wellington Academy is sponsored by the independent school Wellington College, and Holyport College is sponsored by Eton College, with students being able to use some of Eton's facilities.
How are state boarding schools different from independent schools?
Most importantly, state boarding schools cannot and do not charge for education, as this cost is covered by the state. Class sizes may be larger than an independent school and more in line with state day schools, which can have anything from 22-29 students. They may have slightly shorter holidays than independent schools; many schools that offer Saturday morning lessons will have shorter terms than state day schools.
In most state boarding schools, the majority of children are day students – but many of them enjoy an extended day alongside the boarders. Some schools, such Gordon's School charge a compulsory 'day boarding' fee of several thousand pounds to all day students, which covers after-school activities. Others, such as Wymondham College, will offer free day places for students who attend only for normal school hours attendance, and charge a day 'boarding fee' for students who want to stay for breakfast, dinner, extra-curricular activities, and study support.
Day students can enjoy the benefits of boarding life while still sleeping in their own bed every night and without paying boarding fees. They get access to the specialist teaching, sport and arts facilities found at an independent school, a broad extra-curricular programme, and the opportunity to stay at school for an extended day to complete prep/homework.
Sources:
https://www.armyandnavyacademy.org/blog/what-does-a-boarding-school-education-cost/
https://educationdata.org/average-cost-of-private-school
https://whichschooladvisor.com/uk/guides/uk-state-boarding-schools-what-where-how-much